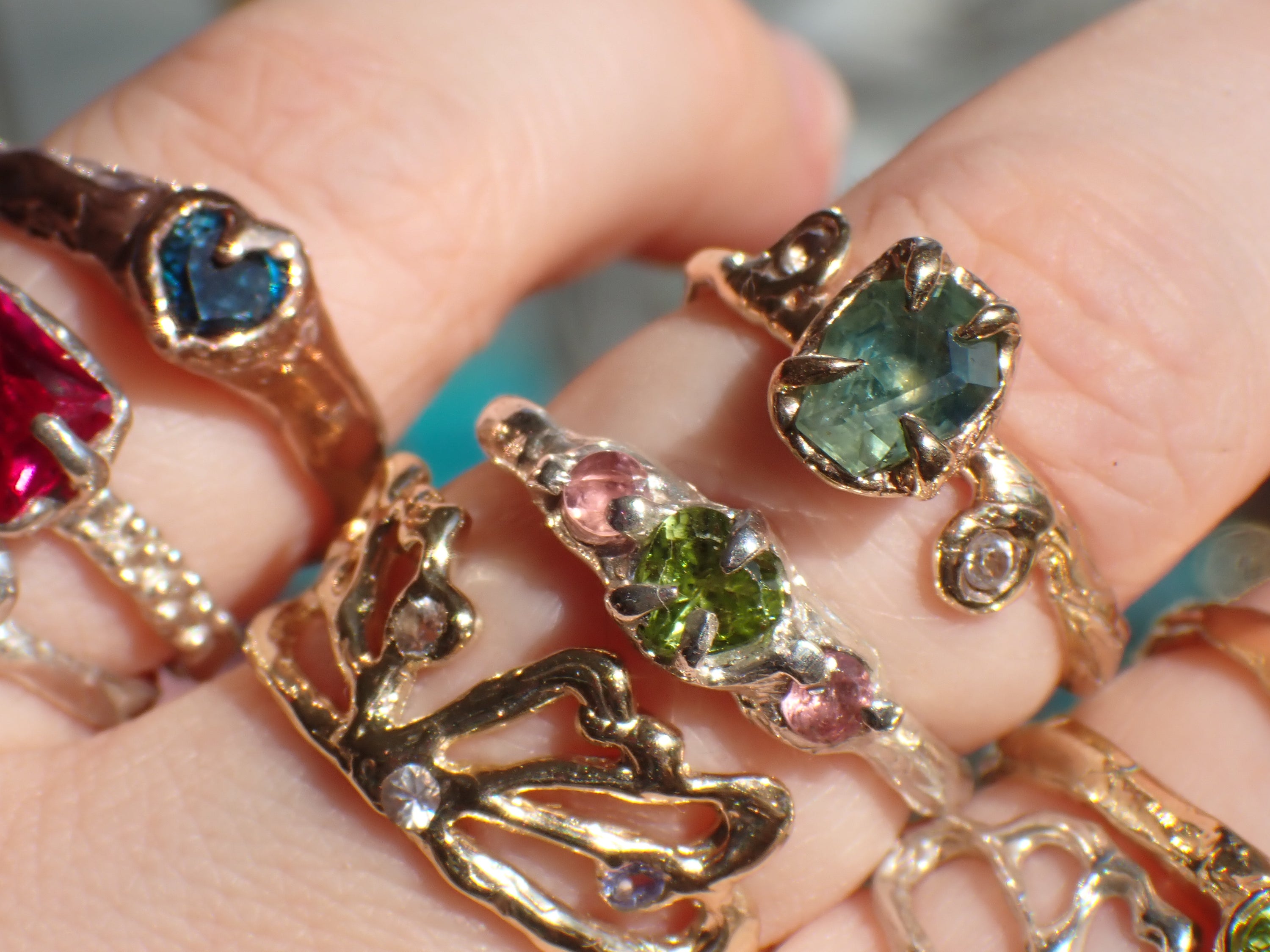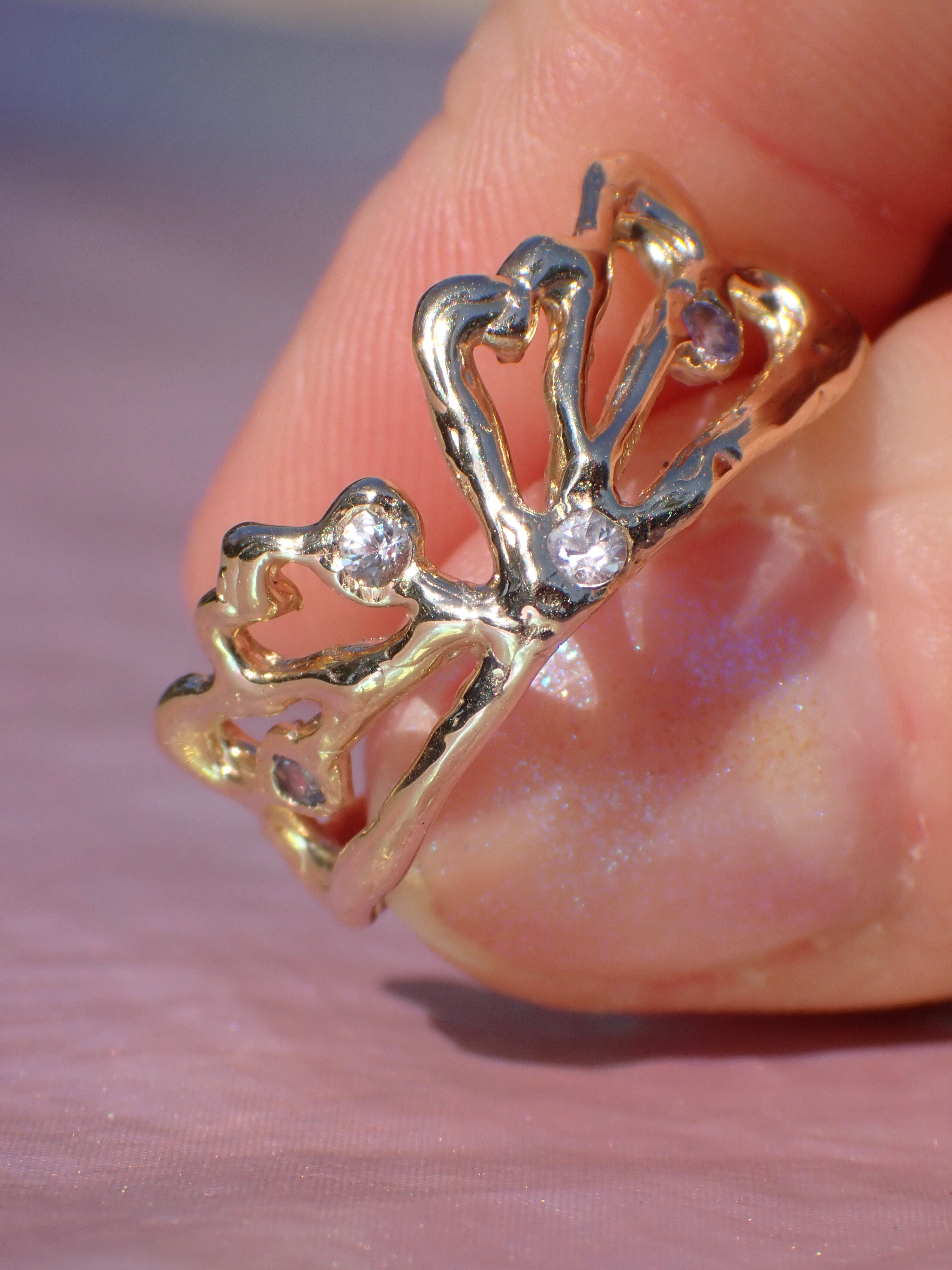 Faye Wedding Ring | Custom Enchanted Fairy Wing Inspired Ring in Gold
Description
Inspired by the ethereal beauty of fairy wings, this extraordinary ring is a symbol of romance, magic, and the beginning of your union.
Handcrafted with unwavering devotion, the Faye Wedding Ring is a true testament to the artistry of love. Delicate and graceful, its design mirrors the intricate wings of fairies, symbolizing the ethereal connection you share with your beloved.

Crafted from your selection of recycled rose, white or yellow 9ct or 18ct gold, this ring not only celebrates your everlasting love but also embraces a sustainable future.
Immerse yourself in the ethereal allure of the Faye Wedding Ring by adorning it with the gemstones of your choosing. Carefully scattered along the fairy wings, these 2mm gemstones add a glimmering touch to the ring, symbolizing the unique facets of your love story. Pictured with white sapphire and tanzanite.
With each stone thoughtfully placed, your ring becomes a personal tapestry of love, reflecting the unique chapters and cherished moments of your journey together. Embrace the timeless beauty of white sapphire, the joyful energy of yellow sapphire, the prosperity of green sapphire, and the depth of love represented by pink sapphire. Delve into the mystique of blue sapphire, the spiritual awakening of tanzanite, and the inner harmony of rainbow moonstone. Discover the abundance of citrine, the passion of garnet, the growth symbolized by peridot, and the serenity of aquamarine. Ignite your love with the fiery passion of ruby, celebrate eternal love with diamond, and embark on a journey of rebirth with emerald. Each gemstone adds its own unique touch, allowing your Faye Wedding Ring to be a dazzling expression of your extraordinary connection.
Made to order with your choice of golds; rosy and warm pink, buttery and golden yellow or luminous and bright white in 58 sizes for your perfect fit.

This ring is handcarved by Georgia in our vegan studio and then cast locally using recycled australian metal before being finished by Georgia with a handful of gemstones.
Spec's
• note at checkout your ggold colour (rose, white or yellow) and the colours/gemstones you would like
• four scattered round brilliant cut 2mm gemstones, options of white sapphire, yellow sapphire, green sapphire, pink sapphire, blue sapphire, tanzanite, rainbow moonstone, citrine, garnet, peridot, aquamarine, ruby, emerald or diamond
• molten "faye" fairy wing style band
• recycled solid australian 9ct yellow, pink or white gold or 18ct yellow, pink or white gold
• each one will be slightly different due to the handmade nature of the design
• handmade to order in 58 sizes, please note your size at checkout
• free shipping aus wide
• handmade with love in australia
• 100% vegan studio
• shipped to you in compostable packaging
• if you're not sure of your ring size click here
If this piece has caught your eye but you want to tweak some details head over to our Custom Orders page to commission a bespoke piece.
~ This item is made to order, the usual manufacture times this piece is 10-15 working days, however this may increase during peak periods. Our most up to date turnaround times can be found on our Turn Around Times and Holiday Deadlines page, otherwise please message us and we will do our best to accommodate your time frames where possible ~
Faye Wedding Ring | Custom Enchanted Fairy Wing Inspired Ring in Gold
FAQ
What kind of packaging do you use?
All of our pieces come in a linen trinket bag inside a wax sealed box, they are sprinkled with crystals and flower petals and then delicately wrapped using cardboard and paper and into the post. 100% plastic free. We also have vegan friendly velvet ring and pendant boxes available to order.
How much is shipping? 
See our shipping page here for all the options and prices, but in short we have free aus domestic shipping over $75! 
How do I work out my ring size?
Most jewellery shops will be able to tell you if there is one nearby, otherwise in a pinch head over to our sizing tab for a way you can work this one out at home or by purchasing an At Home Ring Sizer.
Do you take custom orders?
Yes! This is one of my favourite things to do! Head over to my Custom Orders tab to read all about the process and send an enquiry so we can discuss the details.
Shipping
Free Shipping Over $75
If your order is being delivered within Australia & is over $75, free shipping will be listed as an option for you to select during checkout automatically. 
Order Tracking
Everything (excluding ring sizers) is sent with tracking included so you will be able to keep a close eye on your piece as its jets to you.
Worldwide Shipping
We ship almost everywhere (minus countries with import restrictions). Ask us for an obligation free shipping quote.
About us
Handcrafted in Australia
Each and every piece of Earth + Heart Jewellery is handmade by Georgia using traditional gold smithing and lost wax casting techniques and a little bit of magic.
Consciously Made
All of our pieces are made with only solid recycled metals of Australian origin, meaning they can be treasured over and over again in years to come. All metal waste from production is kept, and recycled into new again.
Eco Luxe Packaging
All of our pieces come in a linen trinket bag inside a wax sealed box, they are sprinkled with protective crystals and organic flower petals and then delicately wrapped using cardboard and paper and into the post. 100% plastic free. 
Don't know your ring size?
Order a Sizing Kit
Measure your ring size at home without the difficulty of using string! Order one of our ring sizer kits, included is a simple sizer, instructions on how to measure and a card to fill out your sizes and keep in your wallet (for sneaky presents and proposals!) You're welcome!!
SIZE ME UP
What are we about?
Slow Fashion
The dedication to embracing the slower process, to designing with intention and minimising waste. Its the ability to know the maker and taking the time to appreciate the elements that have spent millions of years forming.
Collections are purposely created in small, sustainable runs and marketed to encourage purchases to be treasured and eventually recycled, not to follow fleeting trends.
What's it made of though?
Recycled Gold Solid & Silver
Our pieces are crafted out of solid recycled silver and gold, with every last scrap kept for further recycling. No plating, coating, filling or anything else. Just solid, recycled precious metal, to be loved and reused for generations to come.
Curious who is making it all?
Behind the Bench
I'm Georgia. All of our jewellery is handmade by me, in QLD, using traditional goldsmithing and lost wax casting techniques and a little bit of magic.
I take inspiration from mythology, fairy gardens, renaissance art, mermaids, the cosmos, and perhaps most of all, mother nature's rainbow of gemstones. 
I get so much joy bringing my pieces to life, from concept to completed piece, I love it all. I hope my work brings you as much joy as it does me. 
Lots of Love,
Georgia xo
After something a little different?
Bespoke & Custom
We adore working with you to bring your ideas to life in the form of a bespoke piece. We are honoured to offer a fully custom jewellery design service, where you can choose each individual element of the design 
You will work closely with founder and jeweller, Georgia to decide on metal, setting, gemstone and finish options, before your piece is handcrafted in house and shipped to your door. 
Learn more
Bespoke / Custom Piece Enquiry